---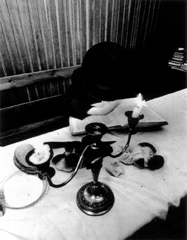 Stephen Feldman

Bound whith Judaism

Recognisable at first glance, visually out-of-date, the Hasidic Jews are often regarded by outsiders as representatives of the entire Jewish community. But like Antwerp and other large cities they only make up the tip of the iceberg. And although the Jewish community is a highly diversified body of people its many sects and numerous differebces all claim the same common Jewish identity.
---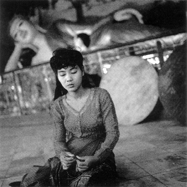 Daniel Schwartz

The roads to Nirvana

In both Burma and Cambodia religion and political power are strangely intertwined, the latter relying on the former to impose their wrongdoings. Daniel Schwartz, a Swiss photographer who works on a regular basis with du magazine knows all the nooks and crannies of this area. He tells how a form of Buddhism, Hinayama (meaning "Little Vehicle") keeps this confusion going by representing their disciples with a number of principles for the daily salvation but where there is no place for the layman. It seems the path to Nirvana is not paved with good intentions only...
---
Alain Dister And what about God in all this ?

How has photography always been able to convey a sense of religion, secrets that belong to the spiritual world ?
---
Alain D'Hooghe A beautiful spring crop

Gilles Peress, Anthony Suau, Stanley Greene and Patrick Zachman have all contribued to an outstanding collection of current event photos and demonstrate, as if it were still necessary, that a book is a priviliged space in teir line of work.