---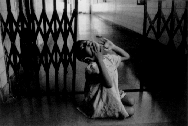 Dario Mitidieri

The Street of Many Hopes

He was awarded the W. Eugene Smith Award in 1991 and won the Visa d'Or at Perpignan: Dario Mitidieri, an Italian-born London resident, spent a full year with the street children of Bombay. Though they must face misery, violence, drugs and prostitution on a daily basis they prefer this kind of precarious life rather than being placed in remand homes. This work was presented the European Publishers Award for Photography 1994, and has been compiled in a book that was published in six languages (in English: Children of Bombay, Dewi Lewis Publishing).
---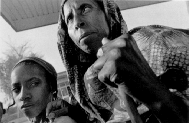 Eugene Richards

Seeing-Eye Children

n Niger many children are compelled to act as guides for their parents who suffer from onchocerciasis, or river blindness. Eugene Richards, an American photographer (his last two books, Cocaine Blue, Cocaine True and American We caused quite a stioer) tells us the story of Boube, 9 years old, who walks his father when he goes panhandling on the streets of Niamey: when the night comes Boube learns French and math in the country's very first school for guides.
---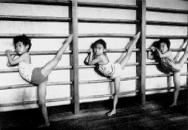 Tom Stoddart

Tears for Gold

China is now recognised as a country that has some of the finer gymnasts, who swipe myriad gold medals. But for the future champions, trained in schools such as Shichahai in Peking, the price to pay is a heavy one: we will know why thanks to Tom Stoddart, a British photographer, multiple award winner at the World Press and winner of last year's Visa d'Or for his reportage on Rwanda.
---
Alain Dister Kids In The Viewfinder

From Lewis Hine to Marie Dorigny, a picture-illustrated story of these children stripped of their childhood.