---
Jacques Rupnik

Europe Recovered?

An analysis of the new relations between East and West and more particularly about the role of the European Union and its attitude in the future to ease the passage to democracy and a liberal economy for its new partners.
---

Josef Koudelka

The Black Triangle

After twenty years of absence, the stateless and most famous member of Magnum agency has returned home in Czechoslovakia (today Czech Republic) and during four years has measured the size of destructions due to out and out industrialisation imposed by the communist regime. In an area called the Black Triangle, bordering Saxe and Poland, strip mining of coal has left a desolate and nightmarish landscape. The author of Gypsies and Exiles has immortalised this with panoramic views (a format he started using during his work on the coastline for the Mission Transmanche). Their sombre beauty doesn't detract their powerful accusation.
---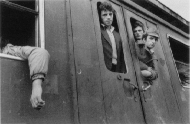 Nikos Economopoulos

Comrade Enver's Ghost

Of all the Eastern European countries, Albania is the least known for one good reason: for half a century it practically retired within itself, except for a few contacts with Moscow and Beijing. Everybody remembers the thousands of Albanians fleeing to Greece and Italy immediately after Enver Hodja was toppled in 1991. Today, even if democracy is officially established, Albania is left with a strong regime, opposition is muzzled and the economic slump makes it the poorest country of Europe. When seeing the images of Nikos Economopoulos, a member of Magnum agency, one realises it will take some time for Albania to catch up with its neighbours.
---