-

-

-

>>
-

-

-

This cd-rom presents works of more than 40 artists from 12 Eastern and Central European countries.
It is an interactive multi-faceted documentary demonstrating the creativity and expressive power of these contemporary creators.
Through more than 1000 audiovisual documents, the user elaborates his/her multiple scenarios to discover and understand this fascinating contemporary art scene too often ignored: the interactive apporach varies from pleasures of discovery and exploration to a more rigorous documentation.
Perestroika and the fall of the Berlin Wall put in the limelights the strong and highly original artistic creation from the other side of Europe.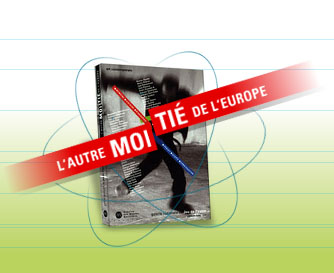 -

-

-

>>
-

-

-

This cd-rom is an attempt to reveal this art scene while showing the similarity - and difference - of these artists who are no more from Eastern Europe but from the Eastern side of Europe.
More than 40 artists from 12 countries of Eastern and Central Europe are presented. The variety of creation in this contemporary art scene are developed along 4 main themes :

• Memory / History / Biography
• Social Reality / Existence / Politics
• Enigma / Secret / Esotericism
• Project / Utopia / Construction


-

-

-

>>
-

-

-

The cd-rom presents more than 400 art works illustrated with 900 pictures, 67 video clips, texts by artists, critics and curators as well as other invaluable reference documents.
The very essence of interactive media is perfectly exploitedby empowering the user to get an understanding and experienceof contemporary art practices, which are usually difficult to grasp.
Interactivity allows new dynamic confrontations withand approaches to the art works: the integration of sounds, still and moving images create contexts to the historical and individual backgrounds of the artists.

-

-

-

>>
-

-

-

The navigation is easy and intuitive, providing an infinite varietyof paths and consulting scenarios among a large set of audiovisual documents. The user becomes the director of his/her personal documentary about a rich and fascinating world of art works and artists.

This cd-rom has been published as the catalogue of the 4 parts' exhibition "L'autre moitié de l'Europe" presented at the Galerie nationale du Jeu de Paume in Paris from February 8 to June 21, 2000.

-

-

-

>>
-

-

-

Editorial Concept and Writing :
Marc Sanchez, Véronique Dabin
Jeu de Paume

Interactive Design, Art direction, Realisation and Development :
Yves Bernard
Isabel Debry (art direction)
Emmanuel Lestienne (development)

Exhibition Curators :
Lorand Hegyi, Viktor Mesiano and Anda Rottenberg


-

-

-

>>
-

-

-

Coproduction :
Galerie nationale du Jeu de Paume (Paris),
Réunion des Musées Nationaux (Paris), Magic Media (Brussels)

Publisher :
Réunion des Musées Nationaux, Paris.

Support :
cd-rom Mac/PC