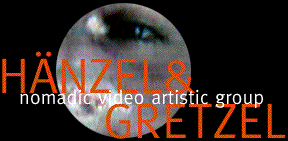 Nomadic video artistic group, (un)dressers of moving images, directors of videoclips "disMTVed" ("Crime & the City solution", "Einstürzende Neubauten" ,
, Jarboe ...), musical handymen (for various French underground compilations and their own visual creations), interdisciplinary "installators" (Burroughs Vertical ?[sound 48K] or how the black magic of video could kill the famous Hombre Invisibile, Comment expliquer la musique à un lapin blanc ? An amusing tribute to Joseph Beuys, Somewhere in Zeus' Secret Domain in collaboration with" Coil " , different mixes of rushes and final images associating Zeus' mythological rapes with the Manipulation / power of the media today) whose works were shown by plastic arts and cinema institutions (Modern Art Museum of Paris, Pompidou Center, Cartier Foundation, New York Film Anthology Museum ...), regularly invited by various international video festivals, Hänzel & Gretzel follows a sinuous multi-media itinerary full of teasing gnomes, ambiguous monsters, questioning tales, witty winks and electric shock icons.


These Siamese twins, cut-up children of Dadaism and Situationism , have built an aesthetic "near-to-collage" in order to reflect various contemporary alienations.
Recently, the Eurocombo has started to explore the Blind Words Area, a series of audio-visual poetic communiqués highlighting the current dis/non-information and socio-political issues throughout various hotspots including Beirut, Berlin, Burundi, Rwanda. Biba non Biba, through the eyes and the words of Habibah Sheikh, a young performer and writer living in America, Europe and the Middle-East, sets a woman' story in the oppressive post-civil war context of Lebanon and Germany.

Genocides, the second volume of Blind Words Area, is a short cutting edge vision of the recent massacres in Black Africa and its (non) reflection in the Western World "Mediation".
H&G have also started The Akashic Peepper, a new series devoted to poetry. The first chapter called The Silk Process is an entertaining trilogy on Gerard Malanga, writer, photographer and Andy Warhol's closest assistant.[sound 256K]

---